Sohm sua khum

Angkor Wat

Cambodia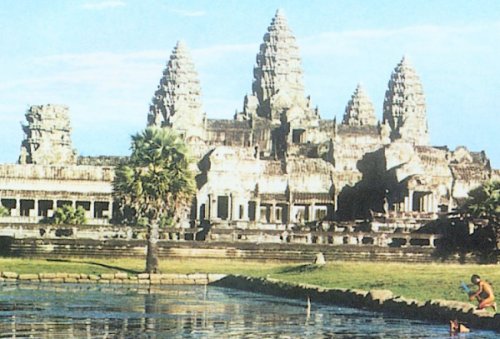 A Photo Gallery of
the ancient temple complex of Angkor Wat
at Siem Riep in the north of Cambodia ( Kampuchea )
---
Angkor was the site of a series of capital cities of the Khmer empire. Their ruins are located amid forests and farmland to the north of the Great Lake ( Tonle Sap ) near modern day Siem Reap, Cambodia, and are a UNESCO World Heritage Site. The number of temples at Angkor exceed one thousand ranging in scale from piles of rubble to the magnificent Angkor Wat - claimed to be the world's largest, single, religious monument.
---
Angkor Temples: ( Thumbnail Gallery )
---
---
Angkor Wat ( Angkor Vat) was built for King Suryavarman II in the early 12th century as his state temple and capital city. It is the largest and best-preserved temple at Angkor and is the only one to have remained a significant religious centre since its foundation - first Hindu ( dedicated to Vishnu ) - then Buddhist . The temple is the epitome of the classical style of Khmer architecture and has become a symbol of Cambodia appearing on the national flag. Angkor Wat is the country's prime attraction for visitors.
---
Angkor Thom, established in the late twelfth century by king Jayavarman VII, was the last and most enduring capital city of the Khmer empire. It covers an area of 9 sq Km with the Bayon - Jayavarman's state temple - at the centre of the city.
---
---
Temples on the Little Circuit:
---
---
References: