Kaweah Gap in Western Divide


Sierra Nevada,

Sequoia

National Park




Kaweah Gap in Western Divide of the Sierra Nevada

The

Kaweah Gap

is the lowest east-west

pass

through the

Great Western Divide

in

Sequoia National Park

.
The

High Sierra Trail

is through this pass



| | |
| --- | --- |
| Kaweah Bowl in Western Divide of the Sierra Nevada | |
| | |
| --- | --- |
| View from the Kaweah Gap in Western Divide of the Sierra Nevada | |
| | |
| --- | --- |
| Great Western Divide of the Sierra Nevada from Mount Kaweah | |
| | |
| --- | --- |
| Palisades in the Sierra Nevada | |
| | |
| --- | --- |
| Castle Rock in the Sierra Nevada | |




Kaweah River in the Sierra Nevada

The

Kaweah River

rises in four major forks in the

Sierra Nevada

within

Sequoia National Park



| | |
| --- | --- |
| Kaweah River in the Sierra Nevada | |
| | |
| --- | --- |
| Kaweah River in the Sierra Nevada | |




Tokopah Falls

The trail to Tokopah Falls starts just beyond the Marble Fork Bridge in Lodgepole Campground.
It is an easy 1.7 mile ( one way ) walk along the Marble Fork of the Kaweah River
to the impressive granite cliffs and waterfall of Tokopah Canyon.
Tokopah Falls is 1,200ft ( 365.8m ) high and is most impressive in early summer.





| | |
| --- | --- |
| Crescent Meadow in Sequoia National Park | |
<< Back : Yosemite & Sequoia Index : Next >>
---
---
Death Valley | The Grand Canyon | Colorado Rockies | Colorado National Monument
Canyonlands, Arches & Monument Valley | Great Sand Dunes | Mesa Verde & Garden of the Gods
---
Adventure Travel
::
Worldwide Mountaineering
::
Site Index
---
---
---
---
---
Tradedoubler Ads:
---
Over 14,000 extraordinary vacations - FREE Brochures:-
USA Vacation - FREE Brochures:-
Alaska | Arizona | California | Colorado | Utah
---
Hiking and Walking Tours - FREE Brochure
Climbing and Mountaineering Tours - FREE Brochure
---
ebookers - Car Hire | ebookers - Hotels | ebookers - Flights
---
Google Custom Search Box
Custom Search
Google Search Box
---
---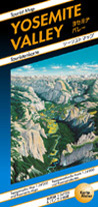 ---
---
---
---
---
---
---
---
---
---
---