Calpe is a coastal town on the Costa Blanca in the province of Alicante

on the Mediterranean Sea.

It is located 67 km from the city of Alicante.

Calpe lies at the foot of the Peñón de Ifach, ( Ifach Rock ).

The economy of Calpe is

based

mainly on tourism and fishing.

There are many Iberian, Roman and Arab

archeological sites

in Calpe.

Calpe

on the

Costa Blanca


| | |
| --- | --- |
| Calpe at the foot of the Peñón de Ifach, ( Ifach Rock ). | |





Peñón de Ifach ( Ifach Rock ) at Calpe.

Penyal d'Ifac is a massive limestone outcrop some 332 metres high.
It is home to rare plants, over 300 species of animals and is a nesting site for colonies of sea birds.

The rock is a prominent landmark of the Mediterranean coastline.


It was known as the Northern Rock to distinguish it from the

Rock of Gibraltar

further to the south.



| | |
| --- | --- |
| Calpe and Peñón de Ifach ( Ifach Rock ) | |




The Peñón de Ifach,

( Ifach Rock )

at

Calpe



| | |
| --- | --- |
| Calpe at the foot of the Peñón de Ifach, ( Ifach Rock ). | |
| | |
| --- | --- |
| Calpe beach and the Peñón de Ifach, ( Ifach Rock ). | |




Map of the Costa Blanca

(

Note:

Click here or on map for large format copy )



Andorra & Pyrenees :: Picos de Europa :: Algarve :: Morocco & High Atlas
---
---
Site Index :: Worldwide Mountaineering :: Adventure Travel
---
---
---


---
Over 14,000 extraordinary vacations - FREE Brochures:-
---
---
ebookers - Car Hire | ebookers - Hotels | ebookers - Flights
---
Google Custom Search Box

Custom Search
Google Search Box
---
---
---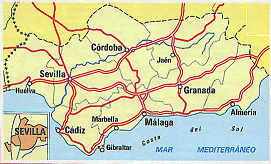 ---
---
---
---
---
---
---
---
---
---
---
Google Analytics

extremetracking
---

---
extremetracking
---
Sitelock caingram.com



Sitelock
Sitelock caingram.info



Sitelock
---

VigLink

---
---
VigLink