---
Nepal - Rolwaling Valley Climbing Trek
: by
Nima Trek
---
---
01 - Kathmandu drive to Barabise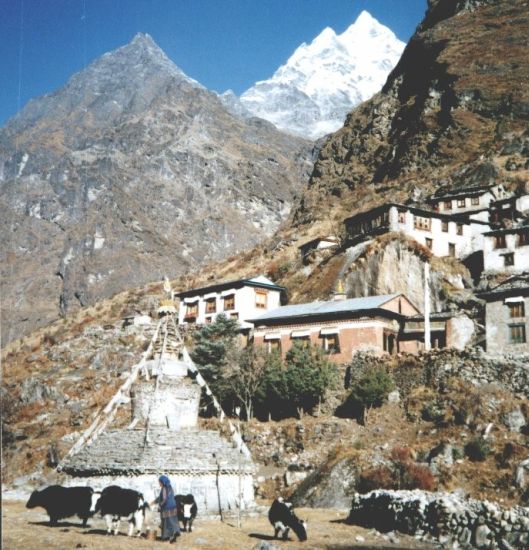 02 - Barabise to Kharte
03 - Kharte to Dolangsa
04 - Dolangsa to Bigu
05 - Bigu to Laduk
06 - Laduk to Jagat
07 - Jagat to Simigaon
08 - Simigaon to Dongang
09 - Dongang to Beding
10 - Beding - rest day for acclimatization
11 - Beding to Nah
12 - Nah rest day / explore Tsho Rolpa glacier lake
13 - Nah to Ramdung Peak Base Camp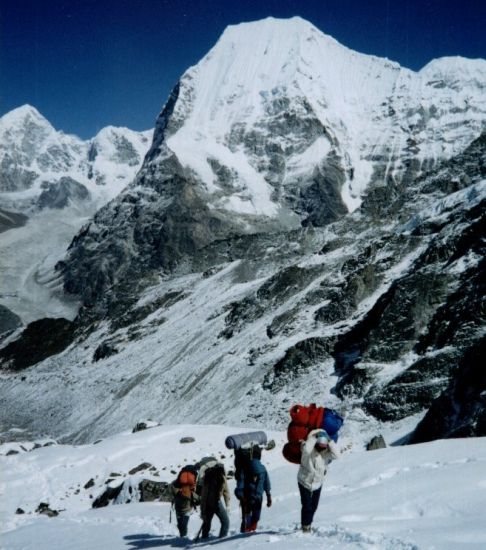 14 - Ramdung Peak Base Camp to High Camp
15 - Climb Ramdung and return to Nah
16 - Nah to Beding
17 - Beding to Dongang
18 - Dongang to Bangbang Danda via Tashinam
19 - Tashinam to Suri Dovan
20 - Suri Dovan to Singati
( Alternatively instead of Singati climb to Gorpang Village )
21 - Gorpang Village to Dolangsa Pass and trek end point at Jiri
22 - Jiri drive to Kathmandu
---
NOTE: There is no Tourist Bus service available from Kathmandu to Barabise, Singati or Jiri
Public bus, or Reserve Bus or Private Car / Van / Jeep is available.
---
Options for trekking and climbing routes in the Rolwaling Region:-
---
1. Drive from Kathmandu to Charikot - some 133km and about 2660m above sea level.
- Trek to Tsho Rolpa in Rolwaling Valley - start from Gongar / Jagat, Simigaon or Tashinam
This is one of the best trekking routes - there are no tea houses and few tourists but it is necessary to take food and accommodation / tents with porters, staff and guide.
2. From the Araniko Highway.
- Trek to Deurali Kalinchowk, 3800m above the sea level with spectacular panoramic views:-
- to the north-east side lies Mount Gauri Shanker, Menlungtse, Numbur Himal
- and to the north-west side is Langtang Himal, Dorje Lakpa, Shishapangma, Ganesh Himal, Manaslu Himal, Annapurna Himal and Dhaulagiri .
After Kalinchow follow forest trails ridge to above Bigu,
then Orang Ladukh, Bulung to Thadi Gongar above Bijuli Danda ( ridge ) and descend to Lama Bagar.
Continue to Rolwaling Valley via Simigaon then Kelje, Dongang, Beding, Nah, Tsho Rolpa lake / Dudhkund
3. Optional climbing expeditions in the Rolwaling Himal include: Chhekigo, Goteng, Ramdung Go, Pachhermo, Gauri Shanker
4. Optional descent from the upper trail to Daldung La where there are few tourists.
5. Option from Nah to cross Yalung La Pass through Numbur Himal, Dudhkund, Panch Pokhari, Jiri, Bhandar, Ringmo, Nunthala
6. Other options are to continue to Phaplu, Lukla, Everest base camp, Arun Valley, Pike Danda.
---
---
---
---
---
---
---
---
---
Google Custom Search Box

Custom Search


Google Search Box
---
---
---
---
---
---
| | | | |
| --- | --- | --- | --- |
| | | | |
| Find what you want at Amazon.com | | Find what you want at Amazon.co.uk | |
---
Note: Books may be bought New or Used from
( The SEARCH boxes can be used to find items and also to compare prices and delivery times )
---
---

---
---

---
---
---
---
---