Passo Pordoi

and

Marmolada




Passo Pordoi in the Dolomites of NW Italy

Pordoi Pass ( 2239m ) lies between the Sella Group to the north and the Marmolada Group to the south.

The road across the pass connects

Arabba

( Livinallongo del Col di Lana ) with Canazei (

Val di Fassa

).

It is the highest surfaced road traversing a pass in the

Dolomites

.



Dolomites Photo Gallery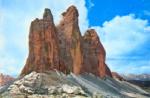 << Back : Italian Alps Index : Next >>
Austrian Alps : French Alps : Swiss Alps : Alps 4000
---
---
Site Index
::
Adventure Travel
::
Worldwide Mountaineering
---
---
---
---
---
Tradedoubler Ads:
---
Over 14,000 extraordinary vacations - FREE Brochures:-
Austria :: Bulgaria :: Croatia :: Greece :: Hungary :: Italy :: Montenegro
---
Over 14,000 extraordinary vacations - FREE
Brochures:-
---
---
---
---
---
---
---
---
---
---
---
---
---
---
---
---
---
---
Google Analytics
extremetracking
---

---
extremetracking
---
Sitelock caingram.com

Sitelock

Sitelock caingram.info

Sitelock
---
VigLink
---
---
VigLink