Located at the base of the Rocky Mountains at an elevation of 5,430 feet ( 1,655m ),

Boulder is 25 miles ( 40km ) northwest of

Denver

.

Boulder City

beneath

the

Colorado

Rockies
| | |
| --- | --- |
| | |
| | |
| --- | --- |
| The Hill in Boulder City in Colorado | |




Flatirons above Boulder City


The Flatirons are rock formations near Boulder in Colorado.

There are five Flatirons along the east slope of Green Mountain,

Other Flatirons are on Green Mountain and Bear Peak.

The Flatirons were named after the flat, metal irons used by pioneer women to press their clothes.



| | |
| --- | --- |
| Flatirons above Boulder City | |
Denver Photo Gallery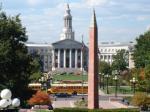 << Back : Colorado Rockies Index : Next >>
---
---
Mt. Whitney | Sequoia & Yosemite | Death Valley | Colorado Rockies | Colorado National Monument
Canyonlands, Arches & Monument Valley | The Grand Canyon | Great Sand Dunes | Mesa Verde & Garden of the Gods
---
Worldwide Mountaineering :: Adventure Travel :: Site Index
---
---
---
---
---
Tradedoubler Ads:
---
ebookers - Car Hire | ebookers - Hotels | ebookers - Flights
---
Over 14,000 extraordinary vacations

- FREE

Brochures:-
Alaska | Arizona | California | Colorado | Utah
---
Hiking and Walking Tours - FREE Brochure
Climbing and Mountaineering Tours - FREE Brochure
---
Google Custom Search Box

Custom Search
Google Search Box
---
---
---
---
---
---
---
---
---
---
---
---
Google Analytics

---
---
---
Google Analytics

extremetracking
---
---