---
---
Religion / Theology & Philosophy for the rational and open-minded:-
---
---
---
Overview:
---
Telegraph - Girl Guides drop "God" from their promise.
Telegraph - Scout Association to allow atheists
---
---
---
---
---
---
---
---
Why should we allow governors to promote religious segregation?

---

---
---
The Conflict between Religion / Theology and Science:- ( Faith vs Reason )
---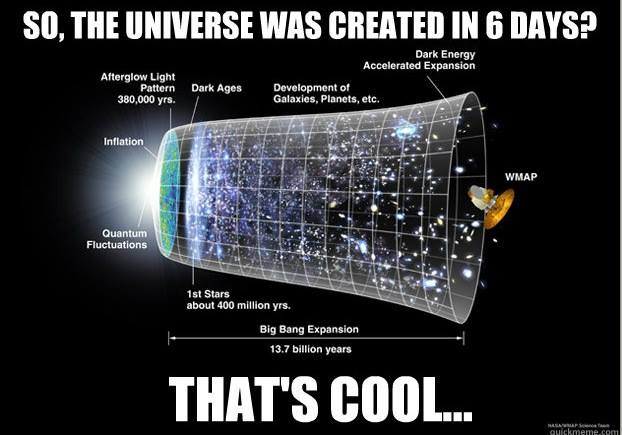 ---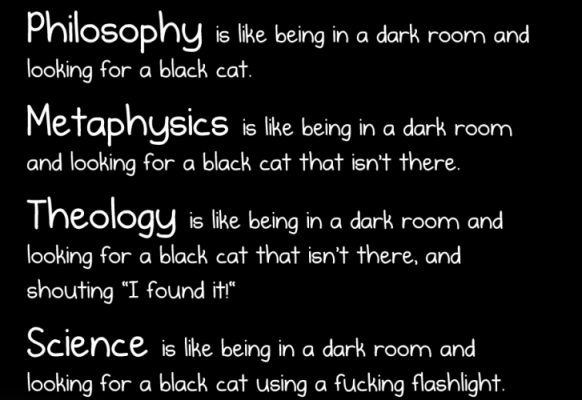 ---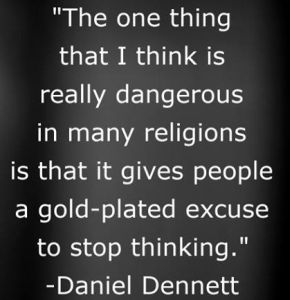 ---
---
---
---
" The Pope is distorting condom science. " Lancet
---
"
Anger as Pope Benedict XVI says condoms make Aids worse.
France and Germany rebuke Pope over condom and Aids in Africa comments

." Telegraph
---
" Science is the pursuit of knowledge about God's creation. " Pope Benedict XVI
---
" I believe the universe is governed by the laws of science.
The laws may have been decreed by God but God does not intervene to break the laws. " Stephen Hawking
---
" God is what man invented to compensate for his ignorance of science. " John Le Carre
---
" Science offers a surer road to God than does religion " Paul Davies
---
" I have always thought it curious that, while many scientists claim to eschew religion,
it actually dominates their thoughts more than the clergy " Fred Hoyle
---
" If there is a God then He is a mathematician " Professor of Mathematical Philosophy
---
" Some foolish men declare that a Creator made the world.
The doctrine that the world was created is ill-advised and should be rejected.
If God created the world, where was He before creation? ..... " The Mahapurana, Jinasena
---
" God is in the details " ,
" The God of the Gaps " ( ie what science cannot explain ) Charles Coulson
---
" All known gods came into existence a good three-millionths of a second after the universe began
rather than, as usually claimed, the previous week. " Hitchhiker's Guide to the Galaxy
---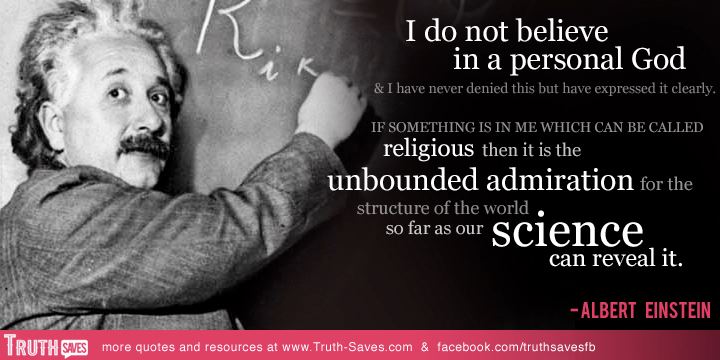 ---
" I do not believe in the God of theology who rewards good and punishes evil.
My God created laws that take care of that.
His universe is not ruled by wishful thinking but by immutable laws " Albert Einstein
---
" Many people find that modern science is far removed from God. I find on the contrary ....
in our knowledge of physical nature we have penetrated so far that we can obtain a vision
of the flawless harmony which is in conformity with sublime reason " Hermann Weyl
---
" You cannot believe in God and be a true scientist " Craig Venter, Human Genome Project
---
---
God / Theology / Religion / Philosophy / Morals / Ethics:
---
Discovered in a monastery in the Sinai desert in Egypt more than 160 years ago, the handwritten Codex Sinaiticus includes two books that are not part of the official New Testament and at least seven books that are not in the Old Testament.
---
---
" The most important variable determining a persons religion is the accident of birth. " A.C.Grayling
---
" Religion began as a mechanism to exclude those who could not be trusted
and evolved as a means of encouraging communal action " The Faith Instinct
---
" Elites co-opted the ritual practices of religion as a means of exercising social control " Before the Dawn
---
" Humans are just one of the branches of the tree of life shaped by the same evolutionary forces.
Any other differing account of human origin ( ie religious dogma / creationism ) are pure myth. " Before the Dawn
---
---
" There is probably no god ( a 95% probability ie odds against 19 to 1 )" British Humanist Association
---
---
---
" Religion is simply a human creation " Sea_of_Faith
---
---
" God aka Nature aka Science "
---
" It is easier to believe in God than to understand the complexities of science / nature " - the default option
---
" God exists only in the mind of the believer " - God of the Mystics
---
" No doubt our ancestors required some rational skills to survive but....
the human brain evolved more as a religious than a rational organ ...
Rational science is a minority interest...
It is likely therefore that the first human brains evolved to impose symbolic meaning on the external world
and the scientific virus later infected a minority of their descendants
where it now flourishes in nerve circuits that originally evolved to carry other ideas." Nicholas Humphrey
---

---
" God - a projected fantasy, a construct / figment of the imagination "
---
" Religion - an outmoded superstition "
---
" The opiate of the masses is religion ie a crutch to which people turn when under stress " Karl Marx
---
" Religion - The Root of All Evil " Richard Dawkins
---
" The assertion that God created man in his own image is a ticking time bomb
in the foundations of Christianity.
As the hierarchy of the universe is disclosed,
we will have to face the fact that if there are any gods whose chief concern is man,
they cannot be very important gods " Arthur C.Clarke
---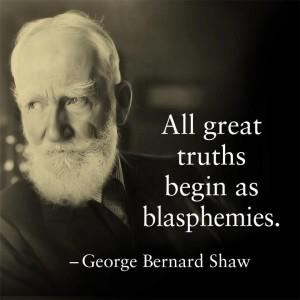 George Bernard Shaw
---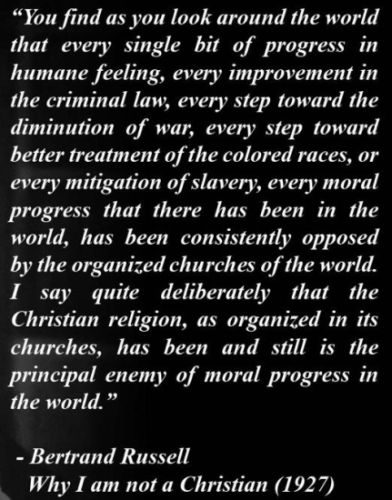 ---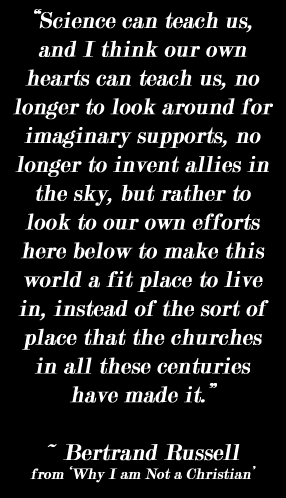 ---
" Religion prevents our children from having a rational education;
religion prevents us from removing the fundamental causes of war;
religion prevents us from teaching the ethic of scientific co-operation
in place of the old fierce doctrines of sin and punishment.
It is possible that mankind is on the threshold of a golden age ;
but if so, it will be necessary to slay the dragon that guards the door;
and this dragon is religion. " Bertrand Russel
---
" Our ideas of God and soul are false and empty.
Though highly developed as theories, they are all the same extremely subtle mental projections,
garbled in an intricate metaphysical and philosophical phraseology.
These ideas are so deep-rooted in man, and so near and dear to him, that he does not wish to hear,
nor does he want to understand, any teaching against them." Gautama Buddha
---
" Do not do unto others as you would not have done unto you " The Golden Rule, Gautama Buddha
---
"To accept a doctrine on somebody else's authority is an abdication of personal responsibility " Gautama Buddha
---
"Buddhism has the characteristics of what would be expected in a cosmic religion for the future:
it transcends a personal God, avoids dogmas and theology:
it covers both the natural and spiritual
and it is based on a religious sense arising from the experience of all things;
natural and spiritual, as a meaningful unity." Albert Einstein
---

---
"Only religion claims to deliver certainty - faith alone is immune from doubt
but few believers are troubled that different religions offer different answers " Luigi Cavalli-Sforza
---
"The choice of religion is not surprising,
a child's religion is chosen by parents at an age when the child cannot express preferences " Luigi Cavalli-Sforza
---
"When one person suffers from a delusion, it is called insanity.
When many people suffer from a delusion, it is called religion" Robert M.Pirsig
---
---
" Religion is regarded by the common people as true,
by the wise as false, and by the rulers as useful " Seneca the Younger
---
" Avidya ( ignorance ) is the source of our unhappiness
and Vidya ( wisdom ) and Bodhi ( enlightenment ) are our salvation " Hinduism / Buddhism
---
---
---
---
---
Richard Dawkins was recently voted one of the world's top three intellectuals (alongside Umberto Eco and Noam Chomsky) by "Prospect" magazine. As the author of many, now famous, classic works on science and philosophy, he has always asserted the irrationality of belief in God and the grievous harm it has inflicted on society. He now turns his fierce intellect exclusively on this subject, denouncing its faulty logic and the suffering it causes. While Europe is becoming increasingly secularized, the rise of religious fundamentalism, whether in the Middle East or Middle America, is dramatically and dangerously dividing opinion around the world. In America, and elsewhere, a vigorous dispute between 'intelligent design' and Darwinism is seriously undermining and restricting the teaching of science. In many countries religious dogma from medieval times still serves to abuse basic human rights such as women's and gay rights. And all from a belief in a God whose existence lacks evidence of any kind. Dawkins attacks God in all his forms, from the sex-obsessed, cruel tyrant of the Old Testament to the more benign, but still illogical, Celestial Watchmaker favoured by some Enlightenment thinkers. He eviscerates the major arguments for religion and demonstrates the supreme improbability of a supreme being. He shows how religion fuels war, foments bigotry and abuses children. In "The God Delusion" Dawkins presents a hard-hitting, impassioned rebuttal of religion of all types and does so in the lucid, witty and powerful language for which he is renowned. It is a brilliantly argued, fascinating polemic that will be required reading for anyone interested in this most emotional and important subject.
---
---
---
The Brights

-

Those with a worldview that is free of supernatural and mystical elements.
---
---
---
---
---
---
---
---
---
---
---
---
---
---
---
---
---
---
---
Imagine

---